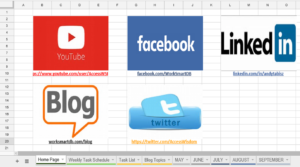 Business owners often ask a simple burning question – am I marketing my business effectively? This generally centers itself around further questions, of marketing to the correct audience, and in the most efficient way. The answers are less simple, and are largely dependent on the type of business you run.
Many small businesses centered around trades and services such as cleaning, construction, etc., are otherwise content with the success from traditional marketing sources such as newspaper and radio advertisements, in addition to the referrals gained through word of mouth. This form of marketing however, leaves a vast sea of possible clients ignored.
As business owners and marketing professionals, we must recognize the virtual age in which we live. According to a recent study by Zephoria Digital Marketing, 1.28 Billion people use Facebook daily. Is this a market we really want to ignore? You then factor in LinkedIn, Twitter, YouTube, and various Blogs and Forums, and you have a social media gold mine just waiting to be tapped.
With our busy schedules as business professionals, how can we manage to create original content and effectively publish with so many options for social media available? Which brings us to today's topic, of social media calendars.
As a marketing professional, I've come to realize how valuable my time is, and how valuable that time is to the company I work for. To effectively manage a marketing campaign through social media, I needed structure, I needed to plan.
After some research, I realized there was a world of tools available for social media management, including downloadable templates to create calendars of your own. So here are three lessons I learned from creating a social media calendar, and how it helped not only myself to market more effectively, but to gain exposure for our company as well.
1. Establish Measurable Goals
Begin by creating a set of rough one month goals, and what you as a business wish to accomplish through social media. These goals should be measurable, so try to stick with ideas such as subscriber count, number of times your content was shared, or how many conversations began with new possible clients.
Stay clear of goals such as, "I will post three business articles to LinkedIn, and share five technology articles on Twitter by Friday." This is likely the number one mistake marketers make when using social media. The entire goal of social media marketing, is to provide useful and original content to your readers, and to the audience you want to connect with. Spamming content to your social media accounts will likely have the adverse effect of driving away potential subscribers, or possibly even losing those you already have. Consider what you would want to read, and provide that content.
2. Brainstorm and Document Ideas
This may seem self-explanatory, but you would be surprised at how inefficiently many manage their social media content. The idea is, to create a list of some 30+ topics of interest, that you can set potential dates for writing and sharing. Our team spent approximately 45 minutes, and created a list of ideas for social media content that we refer to on a weekly basis for maintaining our social media presence.
The number two mistake marketers make is instead of brainstorming a list and documenting it for future use, they sit down at their computer, and spend an hour just trying to decide the topic that should be written about that day, and for that social media platform. Remember, your time is valuable. Plan and you will be successful.
Once these topics are documented, create a rough calendar of what days they will be published by, and for what platform they are directed for sharing. This is a crucial point many forget. An article that is suited well for the business world of LinkedIn, may fall flat on Facebook. Ensure you know your audience and what platforms they use, and write your articles to reflect that choice.
3. Follow Through
Probably the most difficult part of a social media calendar, is following through and using it. Our schedules get busy, and sometimes the boss may ask you to take on responsibilities that have a higher precedence. Therefore, brainstorming and planning will save you countless hours of work, as well as stress. No matter how busy you may get, when your calendar indicates a topic is due, put aside an hour and create that content. By not taking the time to maintain the social media accounts and provide additional content, you will likely see your viewer base drop off. It is sad to say that we as humans have such short attention spans, but it's been proven. Which is why sharing original content on a regular basis is so important to staying relevant. Work on turning the reader into a follower through conversion.  We want to keep the reader engaged in order to follow us on different social media platforms.
By maintaining your social media platforms, you will see new business growth. That growth may show itself in the form of new partnerships, clients, or even just a refreshed public opinion, all of which will see your business to success. If you want to check out some easy to use templates to help you get started, see Microsoft's free Excel calendars, which are a good starting point on which to build, and require no registration unlike many other proclaimed free templates. My hope is that this article sheds some light on the intricacies of social media content, and that you are able to effectively use a social media calendar to drive your business growth.
Erik Schreur – BizDev
erik@worksmartdb.com